Monitoring workstations and desktops can be desired for a number of reasons including compliance with PCI-DSS. As part of the comprehensive CimTrak product line, CimTrak for Workstations/Desktops ensures the integrity, security, and compliance of these machines.
How CimTrak for Workstations/Desktops Works
Based on the same robust, industry-leading file integrity monitoring (FIM) as CimTrak for Servers, CimTrak for Workstations/Desktops detects and alerts you to changes in real-time. Plus, CimTrak gives you the ability to take instant remediation action, preventing or restoring unexpected changes before they cause issues. By giving you one, easy to use tool that covers all systems within the IT environment, CimTrak greatly simplifies change monitoring and compliance with regulations such as HIPAA, NERC-CIP, FISMA, and PCI-DSS.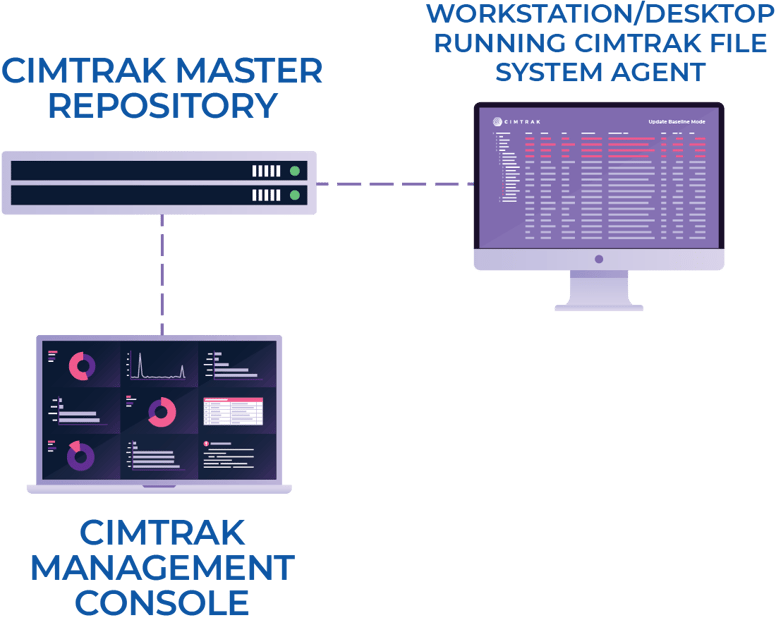 Get Complete Change Details
CimTrak gives you deep insight to changes that are occurring on your servers. By letting you know "who" made a change, "what" exactly changed, and "when" it changed, users get actionable information, not just an alert that requires time-consuming, manual effort to investigate. Users can even drill-down further and get a side-by-side comparison of what a particular file looked like pre-change vs. post-change and zero in on exactly what changed. This extraordinary level of detail saves already stretched IT staff time, money, and frustration by getting to the root of changes.
Extensive Alerting and Reporting Capabilities
With a wide selection of reports which can be scheduled or created on-demand, CimTrak ensures that you have the information that you need for auditing, compliance, or change management purposes. With CimTrak's ODBC driver, data can be sent from the CimTrak Master Repository to any reporting tool that your organization utilizes including Excel, Crystal Reports, or Cognos. Upon detection of changes, alerts can be sent to the appropriate personnel within your organization. Further, change details can be sent to a syslog server or a security information and event manager (SIEM). CimTrak offers out-of-the-box integration with all major SIEM solutions including HP ArcSight, IBM QRadar, McAfee Enterprise Security Manager, RSA Security Analytics, Splunk, and more!
Restore File Changes or Prevent Them Completely
CimTrak's unique architecture gives it the unprecedented ability to go beyond simply change detection. Various modes of operation including "update baseline,"deny rights," and "restore" give users extreme versatility unlike any other solution.
Log – Changes are logged and alerted on and an audit trail is created.
Update Baseline – An incremental "snapshot" of a file or configuration is taken and stored in the CimTrak Master Repository as changes occur. This feature allows for changes between snapshots to be analyzed and previous baseline to be redeployed at any time with one-click.
Deny Rights – Denies any access to a file. Since CimTrak runs as the local system account, it does not matter what privilege access a user has, access to a file will not be allowed thus denying reads, changes, deletions or additions.
Restore – Instantaneously reverses a change upon detection. This effectively allows a system to "self-heal."
Users can deploy these modes of operation selectively to monitor a particular file or group of files as appropriate. This granular nature of deployment allows precision monitoring of your unique environment in the way that fits your operational needs.
Proactively Respond to IT Security Threats
When changes occur, CimTrak's unique ability to take pro-active action via the "deny right" or "restore" mode, helps to ensure the integrity and security of your business critical servers. CimTrak protects against external attacks that slip by your perimeter defenses as well as internal attacks and occasional accidents that originate from inside your corporate perimeter. While intrusion detection systems and anti-virus are essential, they are dependent on known attack-signatures to be effective, and they are often useless against zero-day attacks, disgruntled employees, or programmer mistakes. CimTrak is not dependent on outside intelligence of new hacker or virus methods to be 100 percent effective.
As cyber attacks, data breaches and new forms of malware become more and more prevalent, new methods of defense are necessary. With CimTrak's powerful modes of operation, you can stop changes from occurring without specific authorization. This efficiently and effectively prevents new IT security threats from wreaking havoc on your IT systems.