Automatically Identify Valid Changes
Change is inevitable…even for your critical operating systems. In fact, many of those changes are beneficial, such as patches and updates. However, from an auditing perspective, changes…even good changes, can become a nightmare.
What is the Trusted File Registry™
The CimTrak Trusted File Registry™ is a cloud-based service that integrates tightly into the CimTrak Integrity Suite, and provides security professionals with the ability to automatically identify changes due to patches and updates. By removing much of the noise due to valid changes, you can finally focus on the changes that truly matter.
The CimTrak Trusted File Registry™ eliminates false-positive issues by automatically recognizing vendor-verified patches or updated files and promotes them to the organization's baseline.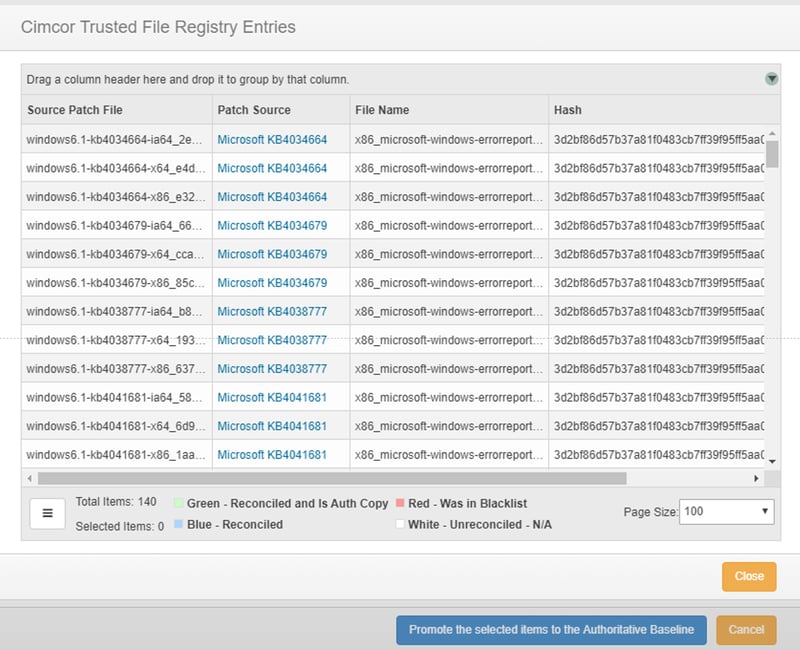 How Changes Are Documented
Patches and updates, which are identified via integration with the CimTrak Trusted File Registry™, can be automatically documented and associated with a ticket. This ticket can reside in CimTrak's building ticketing subsystem, or integrated directly into existing ticketing systems such as Atalssian Jira, BMC Remedy, ServiceNow, CA ServiceDesk, and others. This will provide you with documentation and a simple audit trail of the OS patches and updates that were applied to your system.
Focus on Unexpected Changes
Eliminating & reducing false positives allows you to focus on the changes that actually matter: malware, zero-day attacks, rogue users, and other threats to your IT infrastructure. We realize you only have limited time, and CimTrak helps you use that time more efficiently.
Products tracked in the Trusted File Registry™:
Microsoft Windows 2019
Microsoft Windows 2016
Microsoft Windows 2012
Microsoft Windows 2008
Microsoft Windows 2003
Microsoft Windows XP
Microsoft Windows 10
Microsoft Windows 8.1
Microsoft Windows 8
Microsoft Windows 7
Redhat Enterprise Linux 7
Oracle Linux 7
Centos