While perimeter and signature defenses such as firewalls, intrusion detection, vulnerability assessments, anti-virus, and anti-spam are important components of your security strategy, they are often defenseless against zero-day exploits, individual attacks, social engineering, and insider exploits.
CimTrak is attack-vector independent and provides unprecedented security and compliance capabilities across your organization. CimTrak's real-time detection, automated workflow, and self-healing ability, make it one of the most powerful cloud security tools. CimTrak's Integrity Suite aligns with Gartner's Cloud Workload Protection Platform (CWPP) and provides five foundational and core features and functionality: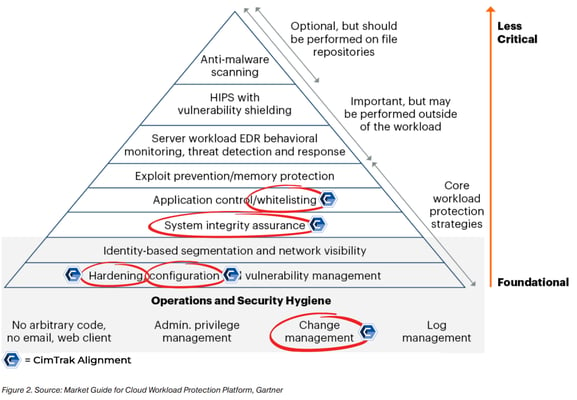 Cloud Security Alliance's (CSA) 2022 annual report outlined the top concerns for threats in cloud computing. Coming in at #3 was misconfiguration and inadequate change control. This is one of the most severe problems relative to a cloud environment, as a misconfiguration can be compounded exponentially given the interconnection of multiple systems and applications.
Key takeaways to mitigate the risk of misconfiguration and inadequate change control as outlined by CSA include:
Companies need to adopt a technology that can continuously scan for misconfigured assets and remediate those vulnerabilities in real-time.
Change control must be required to ensure approved changes are made properly and verified through workflow automation.