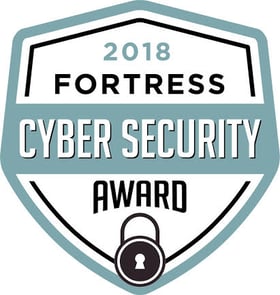 Merrillville, Ind. (April 25, 2018) - Cimcor, Inc., an industry leader in developing innovative security, integrity, and compliance software has been awarded the 2018 Fortress Cybersecurity Award in the software category for Organizational Excellence, Threat Detection, Endpoint Detection, and Compliance by The Business Intelligence Group. Cimcor, Inc. ranks 75th in Cybersecurity Venture's Cybersecurity 500 list of the world's hottest and most innovative cybersecurity companies and was recently awarded the 2018 Cybersecurity Excellence award in compliance for CimTrak, its file integrity monitoring software.
"This award is validation of Cimcor's continuous efforts to truly help enterprises protect their IT infrastructure," said Robert E. Johnson, III, President and CEO of Cimcor, Inc. "As zero-day threats and malware surge across all industries, our determination to deliver innovative product capabilities, and continually evolve as a world-class, enterprise security, and compliance tool never wavers."
"We are so proud to name Cimcor, Inc. as a winner in our inaugural Fortress Cyber Security Awards program," said Maria Jimenez, Chief Nominations Officer, Business Intelligence Group. "It was clear to our expert judges that the entire group of innovators and innovations are the top in helping to prepare, defend and respond to the growing threat of cyber attacks."
Cimcor's global presence has widened in the last few years as CimTrak is now distributed in twenty-two countries and six continents.
About Cimcor, Inc.
Founded in 1997, Cimcor, Inc. is an industry leader in developing innovative security, integrity, and compliance software solutions. The firm is on the front lines of global corporate, government, and military initiatives to protect critical IT infrastructure and has consistently brought IT integrity innovations to market. Cimcor's flagship software product, CimTrak, helps organizations monitor and protect a wide range of physical, network, virtual, and cloud-based IT assets in real time.
About CimTrak
CimTrak is an advanced monitoring tool for servers, network devices, databases, critical workstations, and more. It helps companies and government agencies keep their IT infrastructure secure, maintain compliance, ensure continuous system uptime, and take control of changes in their IT environments. Built around leading-edge file integrity monitoring capabilities, CimTrak gives organizations deep situational awareness including who is making changes, what is being changed, when changes are occurring, and how changes are being made. This, coupled with the ability to take instant action upon detection of change, gives organizations assurance their IT assets are always in a secure and compliant state. CimTrak is certified to Common Criteria EAL Level 4 +, Federal Information Processing Standard (FIPS) 140-2 Level 2 compliant, it is on the Army Approved Products List and the Defense Information Systems Agency (DISA) Unified Capabilities Approved Products List (UC-APL). For more information or a free evaluation, visit: https://www.cimcor.com/cimtrak
About Business Intelligence Group
The Business Intelligence Group was founded with the mission of recognizing true talent and superior performance in the business world. Unlike other industry award programs, these programs are judged by business executives having experience and knowledge. The organization's proprietary and unique scoring system selectively measures performance across multiple business domains and rewards those companies whose achievements stand above those of their peers. For more information, visit www.bintelligence.com.
Tags:

Since 1999, Jacqueline has written for corporate communications, MarCom agencies, higher education, and worked within the pharmacy, steel and retail industries. Since joining the tech industry, she has found her "home".