The CimTrak Integrity Suite Wins 2023 Fortress Cyber Security Award for Compliance.
---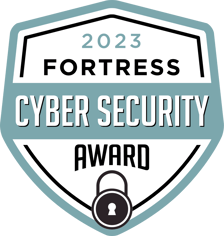 Merrillville, IN — May 31, 2023 — The Business Intelligence Group announced that Cimcor, Inc. has won the 2023 Fortress Cyber Security Awards in the Compliance category. The industry awards program sought to identify and reward the world's leading companies and products working to keep our data and electronic assets safe from growing threats.
"Receiving this recognition for The CimTrak Integrity Suite is an incredible honor, and it serves as a testament to the tireless efforts of our dedicated team. We believe cybersecurity, compliance, and privacy is not just a necessity but has emerged as a fundamental right in the ever-changing cybersecurity landscape," said Robert E. Johnson, President and CEO of Cimcor, Inc. "This motivates us to continue pushing the boundaries, innovating, and staying ahead of evolving threats. With CimTrak, we can continue to provide organizations with integrity throughout their enterprise through detecting unexpected and unauthorized changes and helping them comply with various regulatory and compliance frameworks."
"We are so proud to name Cimcor as a winner in the 2023 Fortress Cyber Security Awards program," said Maria Jimenez, Chief Nominations Officer, Business Intelligence Group. "As our society continues to evolve and become more reliant on networks and data, companies like Cimcor are critical at providing the protection and trust consumers demand."
For information about The CimTrak Integrity Suite, please visit https://www.cimcor.com/cimtrak-integrity-suite. For information about the annual Fortress Cyber Security Awards, please visit https://www.bintelligence.com/awards/fortress-cybersecurity-award.
About Cimcor, Inc. www.cimcor.com
Cimcor develops innovative, next-generation, compliance and system integrity monitoring software. The CimTrak Integrity Suite monitors and protects a wide range of physical, network, cloud, and virtual IT assets in real-time while providing detailed forensic information about all changes. CimTrak helps reduce configuration drift and ensure that systems are in a secure and hardened state. Securing your infrastructure with CimTrak helps you get compliant and stay that way. For more information, visit https://www.cimcor.com/cimtrak-integrity-suite.
About Business Intelligence Group www.bintelligence.com
The Business Intelligence Group was founded with the mission of recognizing true talent and superior performance in the business world. Unlike other industry award programs, these programs are judged by business executives having experience and knowledge. The organization's proprietary and unique scoring system selectively measures performance across multiple business domains and rewards those companies whose achievements stand above those of their peers.
Tags:
Lauren is an IU graduate and Chicagoland-based Marketing Specialist.