Detect, Alert, And Report On Changes To Your ESXi Hosts
Awareness of VMware ESX server configuration changes is vital in maintaining a stable, secure virtual machine host. Monitoring the integrity of these configurations ensures that the hosted systems remain available for supporting day-to-day business operations. Because VMware ESX hypervisors generally run many virtual machines, unexpected or malicious changes can quickly cripple an organization's IT infrastructure.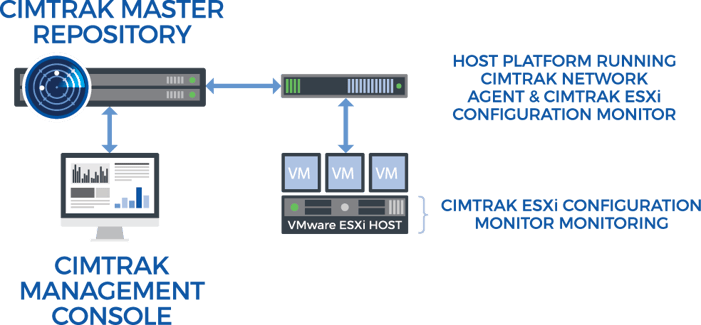 How The CimTrak ESXi Configuration Monitor Works
CimTrak examines critical core VMware ESX/ESXi configurations such a user/host access permissions, active directory realms, network settings, integrated 3rd party tools, and advanced user configurations. This gives you the ability to proactively protect critical ESX applications and ensure the security and continuity of your operations.
Take VMware ESX/ESXi Monitoring To The Next Level
Active monitoring of VMware ESX hypervisor configurations is an important aspect in the process of IT security as well as overall best practices in an administrative environment. Many VMware ESX configuration monitoring products monitor the VMware hypervisor using VMware's application programming interface. Unfortunately, tools utilizing this method are limited to capturing only information exposed by the VMware hypervisor.
CimTrak takes VMware ESX/ESXi monitoring to the next step by monitoring the configurations of the VMware Hypervisor directly at the source. CimTrak interfaces directly with VMware to securely capture actual configuration data files from the Hypervisor host. Capturing the actual configuration data files allows a complete analysis of the VMware Hypervisor and the host operating system running the Hypervisor. Additionally, CimTrak's method of detection provides administrators the capability to manually roll back configurations using the authoritative copy of configurations stored within CimTrak's Master Repository.