Cortex XSOAR Marketplace enables organizations to discover, share and consume security orchestration innovations from a global ecosystem to scale up automation
Merrillville, IN/USA--August 3, 2022--Cimcor, Inc., the leader in System Integrity Assurance, today has announced that the CimTrak Integrity Suite Integration is now available on the Palo Alto Networks Cortex XSOAR Marketplace, the industry's largest and most comprehensive security orchestration marketplace. The content pack from Cimcor on Cortex XSOAR's Marketplace provides customers with advanced integration to the CimTrak Integrity Suite, which provides the ability to detect unexpected system/device/config modifications and automatically respond/react to threats.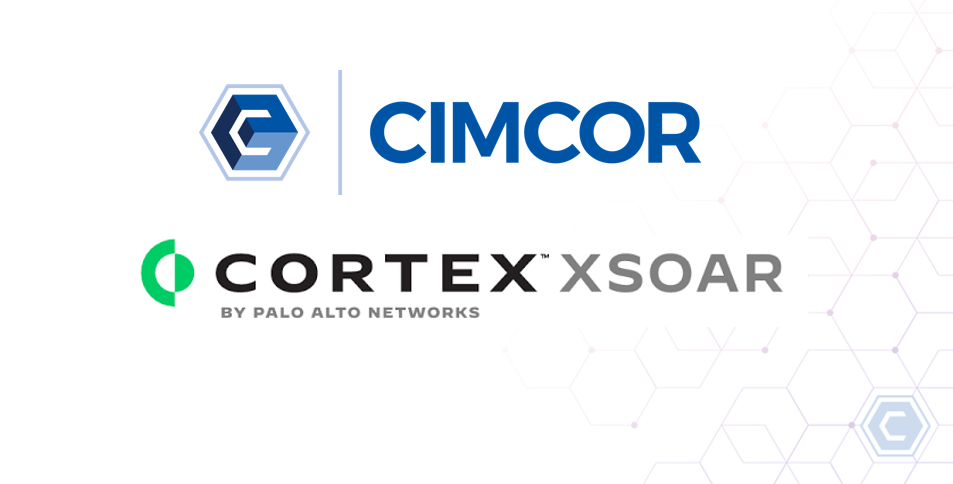 By combining CimTrak & Cortex XSOAR, organizations will be able to identify, help prevent, and roll back unknown and unauthorized changes in real-time across your enterprise thus reducing security costs, risks, and working capital. This enables Cortex XSOAR customers to leverage their playbooks to proactively manage security threats and integrity events identified by CimTrak to create a trusted and resilient infrastructure.
"We are excited to partner with Palo Alto Networks and to have the CimTrak integration available within the Cortex XSOAR Marketplace", said Robert E. Johnson, III, the President and CEO of Cimcor. "The integration of CimTrak and Cortex XSOAR allows organizations to rapidly respond to emerging threats to an organization's infrastructure, and extend the functionality of Cortex XSOAR."
"A robust, open ecosystem is at the heart of Cortex XSOAR," said Matt Chase, Director of Alliances for Cortex at Palo Alto Networks. "We are proud to welcome Cimcor to the Cortex XSOAR Marketplace ecosystem, which has 850+ integrations that enable our customers to streamline, scale, and connect disparate security tools and data sources to enable maximum efficiency in the SOC."
To learn more about the CimTrak Integrity Suite content pack, visit https://xsoar.pan.dev/marketplace/details/CimTrakSystemIntegrityAssurance.
About Cimcor
Cimcor develops innovative, next-generation, compliance, and system integrity monitoring software. The CimTrak Integrity Suite monitors and protects a wide range of physical, network, cloud, and virtual IT assets in real-time while providing detailed forensic information about all changes. CimTrak helps reduce configuration drift and ensure that systems are in a secure and hardened state. Securing your infrastructure with CimTrak helps you get compliant and stay that way. For more information, visit https://www.cimcor.com/cimtrak/.
About Cortex XSOAR
As the market-leading extended security orchestration, automation, and response (SOAR) platform, Cortex XSOAR is designed to simplify and automate complex security workflows across your security stack. It is the only platform that offers more than 850 content packs and comprehensive playbooks, incident War Room, case management, team chat, mobile app, native threat intelligence management, and a built-in marketplace. Now, your team can reduce manual cycles, manage alerts across any source, standardize processes with playbooks, enrich incidents with threat intelligence, and automate response for any security use case. To discover new SOAR content, visit https://xsoar.pan.dev/marketplace

Since 1999, Jacqueline has written for corporate communications, MarCom agencies, higher education, and worked within the pharmacy, steel and retail industries. Since joining the tech industry, she has found her "home".